Vanatab DM

Coupons and Discount Cards
What is Vanatab DM?
DEXTROMETHORPHAN, GUAIFENESIN, and PHENYLEPHRINE (dex troe meth OR fan, gwye FEN e sin, fen il EF rin) is a combination of a cough suppressant, an expectorant, and a decongestant. It is used to treat cough and congestion. This medicine will not treat an infection.
When you get a vanatab-dm coupon or discount card for free from rxless, you'll pay the lowest possible price for your medication. Review the discount offers and pharmacy prices below. Then, select the offer you want and present it to the pharmacist when you fill your prescription to get that price. That's it! There is nothing more to do or pay. Learn more about how our prescription discount cards work, or visit our FAQ page if you have questions. If you experience ANY issues using your rxless discount card at the pharmacy, please call us at 1-844-479-5377 for prompt assistance.
Generic: Dextromethorphan, Guaifenesin,...See all Phenylephrine Brand: actidom dmx, adlt wal-tussin cough-cold CF, Adult Robitussin Peak Cold M-S, adult tussin multi-symp cold, Aquanaz, Biodesp DM, Broncotron Ped, Child Mucinex Cough-Congest, child's mucus relief M-S cold, Children's Mucinex, Children's Mucinex Freefrom, children's multi-symptom cold, Childrens Giltuss Cough-Cold, cough & cold mucus relief CF, Deconex Dmx, Desgen, Desgen DM, Despec, Despec DM, Despec DM-G, dextromethorph-guaif-phenyleph, dextromethorphan-guaifenesn-PE, Dometuss-Dmx, Duravent DM, G-Supress DX, G-Tron, G-Tron Ped, G-Tusicof, Giltuss TR, Mucinex Fast-Max Congest-Cough, Mucinex Freefrom Sev Cong-Coug, Mucinex Junior Cough-Congest, mucus relief congest-cough, Neotuss-D, Nivanex Dmx, Pres Gen, Pres Gen Pediatric, robafen CF, Robitussin Cough & Cold CF, severe cough-congestion, Supress-DX, Tusicof, Tusnel DM, Tusnel DM Pediatric, Tusnel-DM Pediatric, Tussi-Pres, Tussi-Pres Pediatric, Tussin CF, tussin CF, tussin CF max, Tusslin, Vanacof Dmx, Vanatab DM, wal-tussin cough-cold CF, VanaCof DM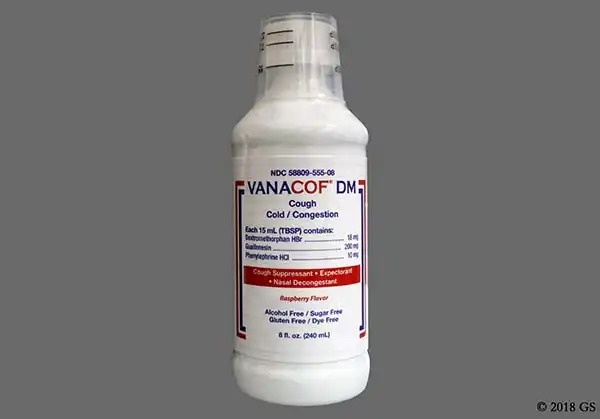 More ways to save on
vanatab dm
Fill a 90-Day Supply to Save
In some cases, filling your prescription for a 90-day supply will give you a lower total cost compared to filling the same prescription multiple times for smaller amounts. Even if the drug and the dosage are the same, you will need a brand new prescription from your doctor to switch to 90-day fills.
Your pharmacy cannot transfer a prescription for a 30-day supply into one with a 90-day supply. Also, some insurance plans may require that you use a mail order pharmacy for prescriptions greater than a 30-day supply.
Patient Assistance Programs
Many programs are available from government organizations, non-profits, and drug manufacturers to assist with the costs of medications. It's free to sign up for these programs if you meet their requirements for eligibility. The enrollment options are different for each program, but they can usually be completed on- line, over the phone, or with the help of your doctor's office.
Please note, patient assistance programs cannot be used in conjunction with these rxless offers. Many times however, the offers listed on rxless will be less expensive than manufacturer coupons, copay cards, or patient assistance programs – so make sure you compare all options before making a purchase.
Research Lower Cost Alternatives
There may be other prescriptions that work equally well at treating a condition, but that are available at different prices. Ask your doctor if there are any lower cost alternative drugs that - and if switching to a different drug could affect your treatment. To get started, check the section below for other drugs related to vanatab-dm.
Save on vanatab dm

Medication

Cough & Cold or Allergy Combinations - Drugs used to treat cough, cold, or allergies.
Other drugs in this class: